Stuck for a meal idea? Scroll through our recipes!
We've got recipes for tried and true classics as well as a few new dishes if you're looking for something different. Each week we add recipes to the web site for you and your friends to try.
If you've got a recipe you'd love to share, email it to us!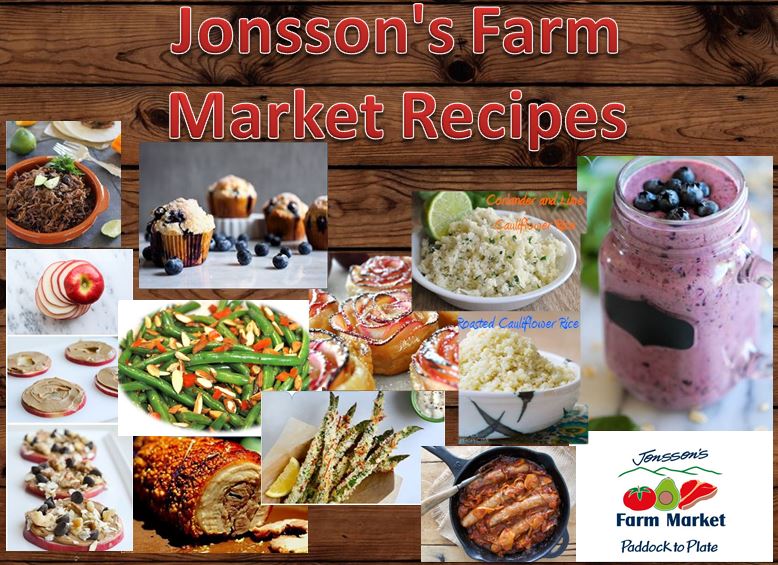 Raw Kiwifruit & Ginger 'Cheesecake' Slice
Makes 12-14 slices
INGREDIENTS
Base
1 ½ cups (240g) pitted dried dates, roughly chopped




2/3 cup (100g) whole raw almonds,




1 tablespoon virgin coconut oil, melted



Filling
3 cups (375g) raw cashew nuts, soaked overnight in cold water + drained




¾ cup (185ml) virgin coconut oil + 1 tablespoon extra, melted if solid




½ cup (125ml) lemon or lime juice




¼ cup Honey




1 teaspoon vanilla extract




1/4 teaspoon fine sea salt




3 tablespoons finely grated ginger




small handful spinach leaves, optional




4 green kiwifruit, peeled and sliced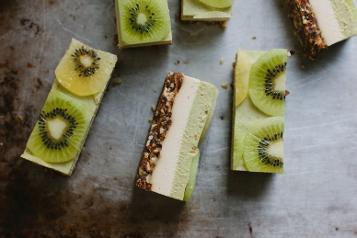 DIRECTIONS
To make the base, line a 28 cm x 18 cm slice tin with baking paper, extending up and over the sides by a couple of centimetres.




Place dates, almonds and coconut oil in a food processor and blend on high until relatively finely ground. Press mixture into the base of the tin, using the back of a spoon to pack down firmly.




To make the filling, place drained cashews, coconut oil, lemon juice, maple syrup, vanilla and salt into a blender and blend of high until smooth (this will take mere moments if you have a high powered blender or a little longer if you don't. If you don't, you might need to stop a few times and scrape down the sides a few times to assist blending). Transfer a little under half of the mixture to a bowl, then add grated ginger to the mixture remaining in the blender and blend on high until smooth. Pour this ginger mixture over the base and place into the freezer while you continue.




Place spinach, 2 green kiwifruit, the reserved filling and extra 1 tablespoon coconut oil into the (unwashed) blender and blend on high until smooth. Remove tin from freezer and pour kiwifruit filling over the bottom layer. Smooth off with a spoon or palette knife and place into the fridge 4-5 hours (or freezer 2-3 hours if in a hurry) or overnight, until set firm.




Slice remaining green and the gold kiwifruit into thin slices and arrange over the top of the cheesecake. Slice and serve. Store in the fridge in a covered container for 5-7 days or freeze for up to 1 month. Defrost on the bench 20-30 minutes before eating.



BBQ BEEF RIBS with ORANGE AND SMOKED PAPRIKA SAUCE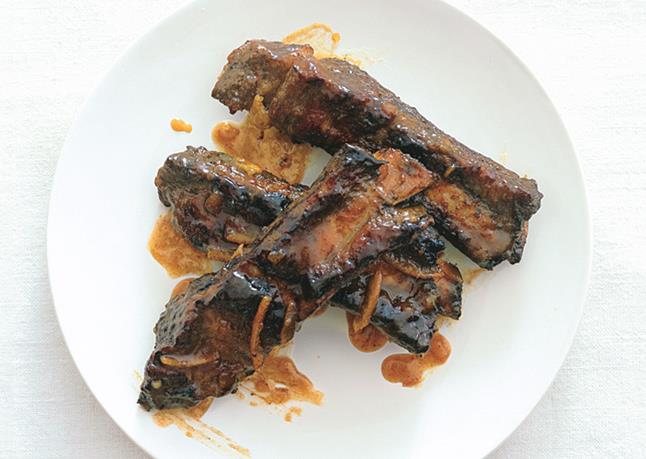 INGREDIENTS
2/3 cup sweet orange marmalade




¼ cup apple cider vinegar




4 tbsps. orange juice




2 tbsps. extra-virgin olive oil




1 tablespoon smoked paprika(The Spice Girls); plus more for sprinkling




1 ¼ teaspoons ground cumin plus more for sprinkling




Salt and pepper




6 meaty beef ribs



DIRECTIONS
Preheat barbecue to a medium-low heat. Combine marmalade, apple cider vinegar, orange juice and oil. Put 1/3 of the sauce aside for use at the end.




Combine paprika and cumin in medium bowl with salt and pepper. To make a dry rub. Sprinkle ribs with dry rubs and grill 20 minutes, turning occasionally. Brush ribs with some of sauce from bowl to keep them moist every few minutes.




Grill ribs until slightly charred and cooked to medium-rare, brushing with remaining sauce in bowl every few minutes. Transfer ribs to platter. Drizzle with some of reserved sauce from earlier.



Blueberry and Mungalli Natural Yoghurt Muffins
INGREDIENTS
2 ½ cups all-purpose




(plain) flour




1 tablespoon baking powder




½ tsp. salt




2 cups fresh blueberries




1 egg, plus 1 extra egg yolk




1 cup sugar




1 cup Mungalli Greek yogurt – we used the

lactose free

for this recipe




6 tbsps. unsalted butter, melted

Plain Sanding sugar, for dusting

(optional)

see

NOTE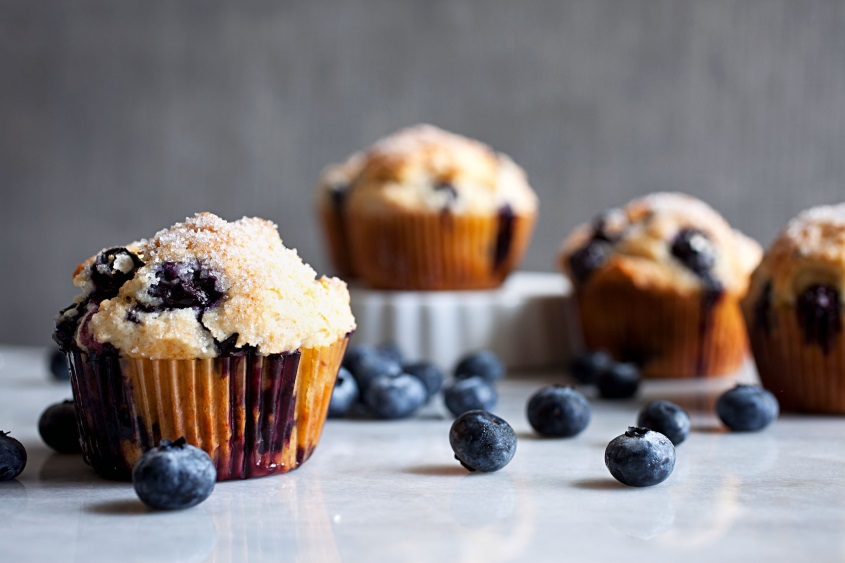 DIRECTIONS
Preheat oven to 220°C and line a standard muffin tin with baking cups.

Place flour, baking powder and salt in a large bowl and whisk to combine. Fold in blueberries and set aside.

Place egg, egg yolk, sugar, and Mungalli Lactose Free Greek yogurt in a small bowl and whisk until combined. Add melted butter in small increments, while whisking, to temper the eggs.

Pour half of the liquid mixture into the dry ingredients and gently fold it in. Pour remaining liquid and fold until just combined. It is a very think batter, do not be alarmed.

Using a ¼ cup scoop, place batter in each muffin tin.

Sprinkle each muffin top with sanding sugar,

this step is optional.

Bake at 220°C degrees for 5 minutes and then lower the temperature to 180°C and bake for 25 minutes, until a tester comes out clean. Remove from oven and let muffins cool slightly before removing to a wire rack. Serve warm and enjoy.
NOTE: Sanding sugar is a large crystal sugar used as an edible decoration that will not dissolve when subjected to heat. Also called pearl sugar or decorating sugar, sanding sugar adds "sparkle" to cookies, baked goods and candies.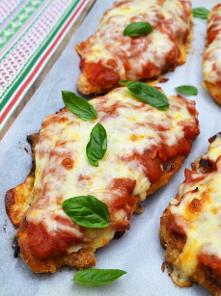 INGREDIENTS
750 g Chicken Schnitzel




2½ cups Solenatura Passata Rustica




¼ cup olive oil




50 g Parmesan, grated or shredded




150 g Mozzarella cheese, grated




150 g Double Smoked Ham, sliced (optional)




Fresh basil leaves, torn, for serving



DIRECTIONS
Preheat oven to 200 °C




Heat half the oil in a large non-stick frying pan and fry the chicken pieces in two batches until golden brown, about 4 minutes each side. Wipe the pan clean and add a little more oil before cooking the second batch. Drain chicken pieces on kitchen paper.




Line a baking tray with baking paper. Arrange the cooked chicken schnitzel on the tray




Top with Parmesan. IF using the double smoked ham, top parmesan with a slice of ham. Next spoon over passata rustica and then cover with mozzarella.




Bake for 15–20 minutes, until the cheese is bubbling.




Just before serving tear over basil leaves.




Serve immediately with a simple green salad.



Chicken Schnitzel Burger (Roll)
INGREDIENTS
Vegetable oil, to shallow-fry




1 fennel bulb, thinly sliced




1/2 red cabbage, finely shredded




1/2 cup flat-leaf parsley leaves




1/2 cup (150 g) whole-egg mayonnaise




2 teaspoons Dijon mustard




4 Burger Buns or Turkish rolls, split, toasted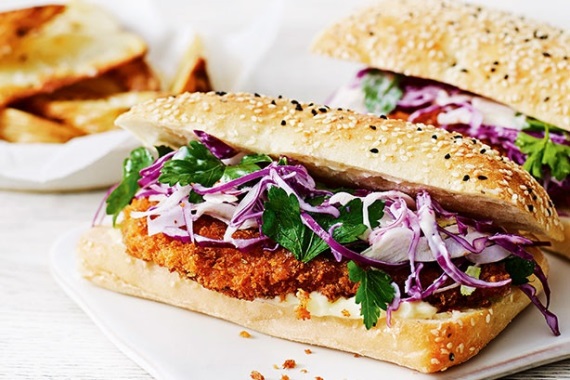 DIRECTIONS
Add enough oil in a large frying pan to reach a depth of 1 cm. Place over a medium-high heat. Cook the chicken schnitzels for 3 mins each side or until golden brown and cooked through. Transfer the schnitzels to a plate lined with paper towel.




Combine the sliced fennel, cabbage and parsley with half the mayonnaise in a bowl. Season with salt and pepper. Combine the remaining mayonnaise and mustard in a small bowl.




Place bread halves on a work surface. Top with mustard mixture, schnitzel, coleslaw and the remaining bread.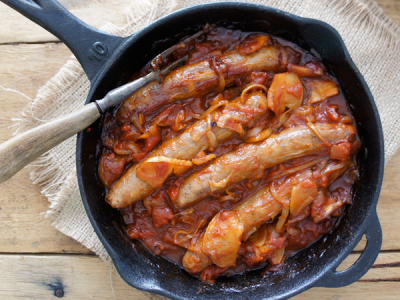 INGREDIENTS
600 g ◊4J BBQ sausage

1 tbsp. canola oil

1 clove garlic crushed

2 onion thinly sliced

1 apple thinly sliced large

400 g canned chopped tomato

¼ cup tomato sauce

¼ cup barbecue sauce

2 tbsp. brown sugar

2 tbsp. malt vinegar
DIRECTIONS
Panfry sausages until browned and just cooked. Remove and cool slightly.

Chop into pieces and place into a casserole dish.

Heat oil in the same frying pan you cooked sausages in and fry garlic, onions and apple until soft.

Add to sausages.

Mix together remaining ingredients and pour over sausage, apple and onion mix.

Cover casserole and cook in oven at 180 °C for 25-30 minutes.
Potato, Bacon, Onion and Garlic Bake
Ingredients
2 tsp olive oil




4 bacon rashers chopped




1 brown onion chopped




2 garlic clove, crushed




1 ½ kgs potato peeled thinly sliced




300 mls thickened cream




½ cup milk




1 ½ tsp chicken stock powder




½ cup tasty cheese grated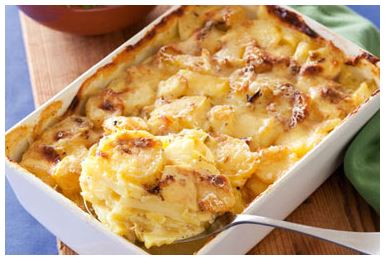 DIRECTIONS
Preheat oven to 200 °C. Lightly grease an 8-cup capacity baking dish.




Heat oil in a large frying pan on high. Sauté bacon, onion and garlic for 4-5 minutes until onions are tender and bacon is golden.




Layer potatoes and onion mixture alternately in prepared baking dish.




In a large jug, whisk together cream, milk and stock powder. Pour over potatoes. Cover with foil. Bake for 1 hour, until potato is tender.




Remove foil. Sprinkle with cheese. Bake a further 15 minutes, uncovered, until cheese has melted and is golden.



Spicy Orange Shredded Beef
INGREDIENTS
1.5 kg Blade Roast




1 teaspoon mild chili powder;

see NOTE




1 teaspoon cayenne pepper




1 teaspoon cumin




½ teaspoon garlic granules




1 teaspoon salt




½ teaspoon smoked paprika




zest of 1 medium orange




2 tablespoons olive oil




juice of 3 medium oranges




juice of 1 lime




2 small green chili chillies, minced (optional)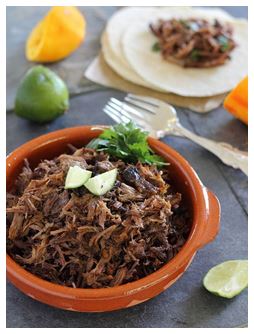 DIRECTIONS
Preheat oven to 150 °C.




Combine spices and orange zest in a small bowl and mix together.




Rub spice mixture on both sides of the roast.




Heat a large crock pot to high heat with the olive oil.




Once hot, add the roast and brown (about 3 minutes). Flip and brown on the other side.




Once all sides are browned, add the orange and lime juice and the chili peppers.




Cover with lid and transfer to the oven for 3 hours.




Remove from oven and pull beef apart with 2 forks.




Transfer the pulled beef back into the crock pot to absorb all the remaining juices.




Serve garnished with coriander and lime wedges.



NOTE: If you like a bit more spice to your food, then use a hot chili powder. For the spice used in this recipe see The Spice Girls range at JFM.
Baked Nectarines and Lime Greek Yoghurt
Ingredients
Baked Nectarines
3 ripe nectarines;

See NOTE- JFM Special 12-18/11/15

2 tbsp. Lime juice

2 tbsp. Brown sugar or another sugar alternative

1-1.5 cup water
Lime Greek Yoghurt
1 ½ cups Munaglli Greek Natural yoghurt

2 tbsp. Lime juice

2 ½ tsps. Icing sugar or honey to taste
Directions
Preheat oven to 350 °C

Cut the nectarines in half and remove the pits

Place the nectarines in a baking dish.

Drizzle with lime juice and sprinkle with sugar.

Pour water in to baking dish so that there is ½ inch of water in the pan and bake for 30 minutes

While the nectarines cook make the Lime Greek yoghurt. Put the yoghurt into a bowl, add lime juice and combine well.

Add sugar a teaspoon at a time and combine. Taste between each teaspoon of sugar, decided what sweetness you like.

Remove nectarines from oven and let cool for a few minutes. Serve warm and with a dollop of two of Lime Greek Yoghurt.
NOTE: Recipe is adaptable; any stone fruit can be used.
Baked Asparagus Fries with Roasted Garlic Aioli
Ingredients
For the aioli (Note)
1 head garlic




Olive oil




3/4 cup homemade or store-bought mayonnaise




2 Tablespoons fresh lemon juice
For the asparagus
500 g asparagus, cleaned and bottom ends trimmed




3 large egg whites




1 1/2 tbsp mayonnaise




2 cups Panko breadcrumbs, lightly crushed




2 tbsp chopped flat-leaf parsley




1/2 cup shredded Parmesan cheese




Cooking spray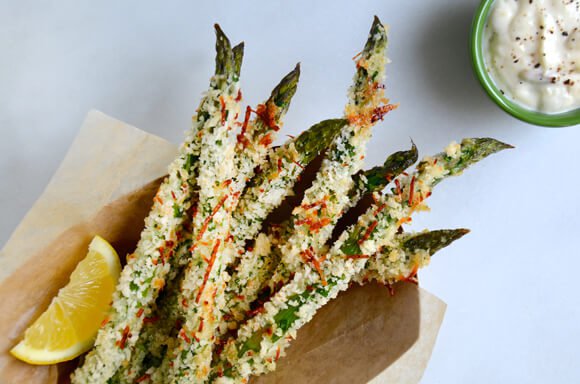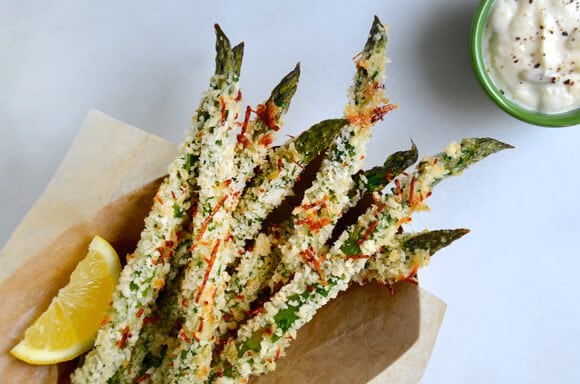 DIRECTIONS

Make the aioli
Preheat the oven to 200 ºC.




Slice the top one-third off the head of garlic. Place the bottom portion on a piece of foil, drizzle it with olive oil, and season it with salt and pepper. Place the top portion back on the head of garlic and crumple the foil to create a sealed packet. Roast the garlic for 30 minutes or until it has softened.




Remove the roasted garlic from the oven and squeeze the cloves into a medium bowl. Add the mayonnaise and lemon juice, mashing with a fork until combined. Season the aioli with salt and pepper to taste. Cover with plastic wrap and store in the fridge until ready to serve.



Make the asparagus
Reduce the oven to 195 ºC. Line a baking sheet with parchment paper.


In a shallow baking dish, whisk together the egg whites with the mayonnaise. (The mayo helps the eggs adhere to the asparagus.)




In a separate shallow baking dish, combine the Panko breadcrumbs, chopped parsley and Parmesan cheese.




Dip each asparagus spear in the egg mixture until it's thoroughly coated then dredge it in the breadcrumbs, pressing to secure them to the asparagus. Transfer the asparagus to the prepared baking sheet. Repeat the breading process with the remaining asparagus, spacing them about 1 inch apart on the baking sheet. Lightly spray the asparagus with cooking spray and bake them for 15 to 20 minutes until golden brown and crispy.




Remove the asparagus fries from the oven and serve them immediately with the prepared roasted garlic aioli.



NOTE: If you don't wish to make your own Aioli, we stock Roza's Aioli in the dairy cabinet.

Barbecued Standing Beef Rib Roast
If you're looking to barbecue something a bit more impressive than steak and sausages, this is the recipe for you!
Serves: 4

Preparation time: 15 minutes
Cooking time: 100 minutes

Ingredients:
2 kg standing beef rib roast
1 tbsp olive oil
¼ cup fresh herb leaves, chopped (try sweet marjoram or oregano, thyme, rosemary)
3-4 Bay leaves
2 cloves Garlic, halved or 8 eshallots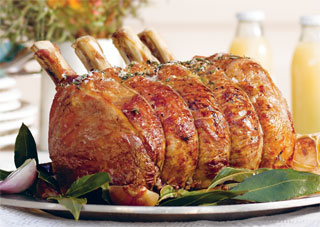 Method:
1. Preheat the barbecue with all burners on to hot 200ºC before the beef is added. Brush the beef rib with olive oil and season with some salt flakes, ground pepper and the chopped herbs. Tuck bay leaves under the string. Halve garlic bulbs.

2. Place the beef in the centre of the barbecue and turn burners directly under it off. Leave the remaining burners on to conduct and circulate heat around the beef. Close the lid and barbecue roast the beef for 80 minutes for rare, 100 minutes for medium and 120 minutes for well done. For ease and accuracy use a meat thermometer. Place the garlic bulbs around the beef to cook in the last 60 mins cooking time.

3. Remove beef and garlic, cover loosely with foil, and rest beef for 20 minutes before carving.

Tips:
Suggested roasting times per 500g for Standing rib roast
Cooking at 200ºC: Rare - 15-20 min per 500g, Medium - 20-25 min per 500g, Well done - 25-30 min per 500g.

Judging your roasts degree of doneness using a meat thermometer
The internal temperature for: Rare – 55-60ºC, Medium rare – 60-65ºC, Medium – 65-70ºC, Medium well – 70-75ºC, Well done – 75ºC.

You can also use tongs to test the roasts doneness. Gently prod or squeeze the roast – rare is very soft, medium rare is soft, medium is springy but soft, medium well is firm and well done is very firm
For more red meat recipes and cooking tips, visit www.themainmeal.com.au
Beef and Mango Salad
Need to whip up a tasty and healthy meal in 20 minutes? This is the one for you!

Serves: 4

Preparation time: 10 minutes
Cooking time: 8 minutes

Ingredients
2 (about 250g each) thick-cut beef rump steaks




2 sliced mangoes




1 bunch rocket (stalks trimmed)




1 butter lettuce (leaves separated)




½ cup mint leaves




rind and juice from 1 lime




2 tbsp oil




2 tbsp soy sauce




2 tsp brown sugar




2 tsp fish sauce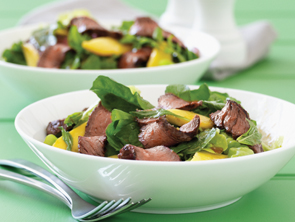 DIRECTIONS
1. Brush the steaks lightly with oil. Season with salt and pepper. Preheat the barbecue flat-plate or char-grill plate or pan to hot before adding the steaks.

2. Cook on one side until the first sign of moisture appears. Turn steaks once only. Test the steaks for degree of doneness with tongs. Rare is soft, medium feels springy and well done is very firm.

3. Remove steaks from heat loosely cover with foil and rest steaks for 5 minutes before serving. While the steaks rest, toss the remaining ingredients together. Slice the steaks thinly and mix with the salad ingredients.

NOTES:
Thickly cut rump, rib eye/scotch fillet or sirloin/porterhouse/New York steaks work best for beef salads like this one.

Preheat the char-grill pan to hot before adding the meat. Instead of oiling the pan it is better to oil the meat. Either brush it lightly or rub a little oil into the meat.

Best beef cuts for char-grilling: fillet/tenderloin, rib eye/scotch fillet, sirloin/porterhouse/New York, T-bone, rump, round and blade, oyster blade.
For more red meat recipes and cooking tips, visit www.themainmeal.com.au
Lasagne 'Pronto'
A family favourite! Prepare it ahead of time for an easy, stress free dinner.
Serves: 6

Preparation time: 35 minutes
Cooking time: 40 minutes

DIRECTIONS

600 g beef mince

1 tbsp olive oil

1 small onion, finely chopped

1 medium carrot, finely chopped

2 stick celery, finely chopped

½ cup white wine

700 g bottle tomato passata

½ cup water

2 tsp dried oregano or basil

1 cup grated Parmesan cheese

300 ml carton thickened cream

To assemble

6 sheet fresh lasagne sheets (or 9 dried)

½ cup grated Parmesan cheese

30 g soft butter

extra grated Parmesan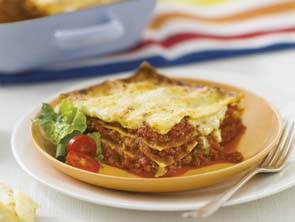 DIRECTIONS
1. Heat a large, deep-sided frypan, ensure it is hot. Crumble in half of the mince. Cook the mince, breaking up any lumps with a fork. Let the liquid evaporate (see page 3). Remove the first batch, reheat pan and cook remaining mince and then remove.

2. Add oil, onion, carrot and celery to frypan, cook over a medium to low heat until onion is just soft. Return the mince to the frypan, add the wine, and cook until all of the wine has been absorbed. Add the tomato passata, water, herbs and season with salt, pepper and a small pinch of sugar. Bring to the boil, reduce heat to low, partly cover and simmer for 30 to 40 minutes. Add a little water to sauce if needed as it cooks.

3. To assemble lasagne; Preheat oven to moderate 180ºC. Use a deep, rectangular ovenproof dish (we used one 31 x 23cm). Layer the meat sauce with the pasta sheets in the baking dish, sprinkle a little Parmesan over the meat sauce as you layer it. Finish with a layer of meat sauce, and then pour the cream over the top, sprinkle with the remaining Parmesan and a few tsp of butter. Bake covered for 20 minutes, and then uncovered for a further 20 minutes, or until thoroughly hot. Remove from oven and stand for 10 minutes before serving. Sprinkle with the extra Parmesan to serve.

Notes:
Make the lasagne ahead of time. You can make the meat sauce ahead of time (up to 2 days in advance, or even longer if you freeze it.) Assemble and bake your lasagne on the day of serving. When you're ready to assemble it preheat the oven and warm the meat sauce (just so it's warm to touch).

Buying and storing mince
Refer to use-by-dates on packaged mince and use well within that time. Loose mince purchased from the butcher is best used within 1 to 2 days of buying it.

Mince can be frozen for 2-3 months
Lay it out flat to freeze, it will then defrost evenly and quickly.

Thaw frozen mince in the fridge, or in the microwave
Thaw it on the lowest shelf in the fridge, below and or away from any ready to eat food. If you thaw mince in the microwave it must be cooked right away.
For more red meat recipes and cooking tips, visit www.themainmeal.com.au